Jennifer Love Hewitt's Boobs Are Old: 3.39
For a title, I almost went with: "Old People Like Love Hewitt's Rack". Anyway, Jennifer Love Hewitt's new show that no one really cares about except CBS has debuted to decent ratings, to the delight of Les Moonves. Moonves dumped "Joan of Arcadia" when its demographic skewed toward the Depends set and replaced it with Jennifer Love Hewitt talking to ghosts.
But back to her old, old boobies. Seriously, they're testing ancient. Apparently, confused CBS geriatrics, perhaps expecting to find perky Amber Tamblyn talking to God, are tuning in to
Jennifer Love Hewitt
and her
ghost-detecting rack
in astonishing numbers. Entertainment Weekly posted the average age of "The Ghost Whisperer" viewers and surprise, it's 88. Just kidding, it's actually 53. Which in demographic terms, is ancient.
J.L. Hewitt & the ladies.
So the median age is 53: that means for every viewer who is actually Hewitt's age [26 if you believe IMDB], there's one who is 80. Yes, that's right. Eighty years old. If Ghost Whisperer has a 13-year-old fan, it must then have one who's 93.
God skews older than ghosts, huh Les?
Right now, Ghost Whisperer debuted to about the same good numbers that Joan did: roughly 10 million viewers, which is good for Friday. Joan slipped to about 8-8.5, if memory serves, by the end of the second season. Ghost Whisperer is trending down towards that a lot faster than Joan did, which held up pretty well until the middle of its second season. [which was also when the network started monkeying around with it in an effort to skew it younger] Anyway,
Les Moonves
at first appeared vindicated with his replacement decision, but is slowly starting to eat some crow as the show sinks lower and trends older.
So basically Moonves ended up canceling an Emmy-nominated show with decent ratings for one with about the same ratings and no chance in hell to get a nod, even a Golden Globe nod. Oopsies. Oh well, I'm sure "How I Met Your Mother" will get a couple, right? Right? Oh. Not even for Alyson Hannigan? No? It's that bad, huh? Oh. Well then.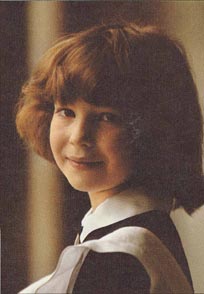 The twin poles of Jennifer Love Hewitt: precocious school girls and old ladies on crack.