Whisper Price Game: En Espanol
Today's game features some of your favorite bilingual crossover stars from the world of Spanish-language movies. Well, and Freddie Prinze, Jr. The idea is to guess how much the assistants inform you you'll have to bid for their services. So how much are these amigos* of mine worth?
*Amigo offer not valid on Freddie Prinze Jr.
Spanish siren Penelope Cruz, at just 31 years old [if you believe IMDB] has a long filmography with some interesting, notable roles. She still switches between Ho'wood and Spanish films regularly, and may be forgiven if she's been tending toward the higher-paying American ones as of late. After all, she should get that money flow going before she enters the land of the lost, aka- being a fortysomething actress.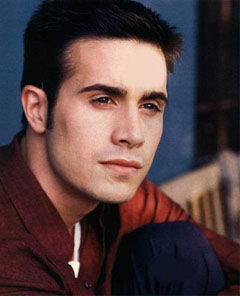 Freddie Prinze, Jr. Yeah, I didn't know he was Hispanic, either. Despite being married to Sarah Michelle Gellar, Freddie's career makes it look like he's about to become the Nick Lachey of the relationship. Doesn't a string a hit teen movies assure you a solid career at least through your 20's and maybe 30's? Let's ask Molly Ringwald.
Mia Maestro
came to my attention playing Jennifer Garner's long-lost sister on "Alias", but she also had a solid performance in "The Motorcycle Diaries" alongside Gael Garcia Bernal. Plus, she gets further indie cred thanks Venezuela's leader, who denied her film
"Secuestro Express"
a shot at a Best Foreign Language Film Oscar, despite its being a critical and commercial success.
Instead, Hugo Chavez picked the mediocre, but more politically-palatable "1888".
If Mia can helm a successful Spanish-language film and hold her own against America's [former] Sweetheart, that's gotta earn her some dinero, right?
Gael Garcia Bernal
&
Diego Luna.
This duo of long-time friends and now, rising stars, has formed a production company in Mexico City. Both have a long history of working in Spanish-language movies [my faves are Bernal's "Amores Perros" and Luna's performance in "Todo el Poder" or their duopoly in "Y Tu Mama Tambien"] and both have won almost universal critical plaudits. I would like to note that I saw Luna's "Vampires: Los Muertos" in Italy [long story] and it's really, really funny dubbed in Italian and also features Jon Bon Jovi and
Eddie Winslow from "Family Matters"
.
There you have it. I left J. Lo and Catherine Zeta-Jones off the list, but if you feel the need comment and/or bid on them. Offers accepted in dollars or euros or pesos.