Imagine Your Statewide Officers as Superheroes: 5.45
Because really, that's the only way I can think to make this year's slate of politicians running for statewide office interesting. Unless, you look at election guides while really, really high. Hey, just as long as you're not high in the ballot box. I don't want to see that anyone has written in Cheech Marin for several random offices.
In this election cycle,
in addition to all of the lovely propositions,
I'm trying assembly my favorite team of faux superheroes. Feel free to vote along with me.
And just to recap, there are 7 executive offices in your super-elected team: Governor, Lt. Gov., Secretary of State, Controller, State Treasurer, Attorney General, and Insurance Commissioner.
Sorry, Phil Angelides, you seem like a good guy, but the Gubernator is going to win. And since he's had the most action hero experience, in addition to being at the top of the ballot, the Gubernator will lead the motley crew.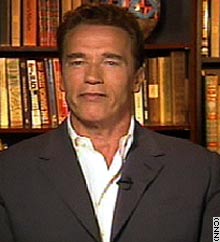 Gubernator
Vote for Ahnold to keep the Democratic Legislature from doing some major crazy-making.
But to prevent Republicans from doing the crazy-making, we've got to keep Tom McClintock out of the Lt. Governor's chair. Whether or not the Lt. Gov. position is a stepping-stone to the governorship is debatable. Whether or not we want Tom McClintock in that position is not. You must vote for this wackjob's opponent, pictured below.
Lt. Gubernator
Vote for Democrat John Garamendi for Lt. Governor.
Here's why I want a Democrat as Secretary of State. Republicans can't be trusted to run elections (please see: Florida in 2000, Ohio in 2004). I don't want a Californian Katherine Harris or Kent Blackwell. Well, not another Republican one, anyway. Plus, every team of superheroes needs at least one chick/woman/girl/female person, and she's the only one up for statewide office. So she can be Babe-ra Bowen, the Electionator.
Babe-ra
Vote Democrat Debra Bowen for Secretary of State.
Next up is Controller, the office that's all about taxes and audits and balancing the books and stuff. Both candidates are pretty serious tax wonks, but John Chiang has even stronger geek mojo. And he's Asian. We definitely want the Asian guy working the books, an Auditnator to keep the Gubernator honest.
Auditnator
Vote for Democrat John Chiang for Controller.
And speaking of money, there's also the State Treasurer contest to decide. I'm going with Bill Lockyer if only for the fact that I don't think he'll screw anything up too badly.
Lockenator
Vote Democrat Bill Lockyer for State Treasurer.
Next up, Attorney General, the wild gun-totin', consumer-advocatin' (hopefully), justice of the peace. He's like the Sheriff, except, you know, he works within the law. Which is why Jerry Brown might not be such a good choice. Unfortunately, the Republican is a pretty big douche, so it's gotta be him. Sorry, California. But hey, Jerry Brown fills the crucial loose cannon role in both state government and the superhero team.
Hippienator
Vote Democrat Jerry Brown for Attorney General. Or write in Cheech Marin.
And finally, for Insurance Commissioner, there's Cruz Bustamante, who fills out my superhero team as the Cruzer.
And the Cruzer...
So there you have it, California, your elected superhero team. Or the one I'm hoping for, at any rate. Feel free to come up with your own names for them. And remember-- cuss words are too easy to incorporate and I'm looking for something clever.
Pic thanks mostly to the
OC Register.
And I promise to be back with apolitical, Hollywood diatribes after the election. Until then, you better vote, biyotches. I'm counting on you.
TECHNORATI TAGS:
California
,
elections
,
voting
,
superheroes