Whisper Price Game: Hey, Black People
Yes, your favorite way to rag on celebs and assign a precise monetary value to their soul is back.
This week's Whisper Price Game will correct a glaring deficiency of previous weeks-- no people of any color other than lily-white. Consider it my nod to affirmative action. Although, really, who wants affirmative action to include a mediocre blogger's rants? Ah well, you take the good with the bad. Let's start this week with Mekhi Phifer.
Mekhi is one of those actors that you think is going to blow up big very soon, but never quite seems to. Maybe it's his role choice: "Dawn of the Dead" won't exactly score you an Oscar nod. That said, Mekhi seems reasonably talented and his filmography is getting to the point where he's going to start getting strong consideration to topline a pic or two. But will he have the box office draw to pull it off?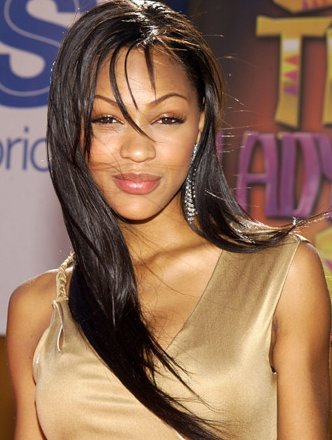 You probably don't recognize Meagan Good-- yet. You may remember her as "Beautifull with two L's" in You Got Served. Remember? She was the only one who bothered to act in that movie? Anyway, besides being in the upcoming Roll Bounce with Bow Wow and Nick Cannon, she'll also appear in Dimension's latest P.O.S. horror film-- "The Reaper". But at some point, she's going to get a good role, and I think we'll all be pleasantly surprised when she does. She's smoking hot, she can act, she's reportedly very sweet and did I mention that this picture doesn't do her justice? I'd give her a bundle to be in my movie-- would you?
Usher is trying for the A-List by giving himself a last name [Raymond] and producing all of his upcoming movies. Somehow, he nabbed Bill Condon (of Kinsey and Gods and Monsters fame) to direct "Dreamgirls" so there's a chance that that flick [which also has Beyonce and Jamie Foxx in the cast] could be pretty good. But still, would you go to see a movie with Usher in it? Will he ever have a chance to topline for twenty mil?
Rosario Dawson is also trying her hand at producing, having formed her own shingle, Trybe Films. It'll produce the first film she'll be toplining-- Descent. According to IMDB, she'll be playing a seductress-- which means that I'll be seeing that one on the big screen for sure. She's been in a slew of higher-profile projects lately (Alexander, Sin City), eschewing the indie fare (KIDS, Light It Up) in which she got her start. So there's no doubt that Rosario's been on a roll. But how high will she go? And how much dough?
Nick Cannon's popularity surprises me, to be honest with you. He overacted in Drumline and I couldn't bear to watch more than 20 minutes of "Love Don't Cost A Thing", despite Christina Milian (who can't act either, but is nice to look at). But for some reason, Nick Cannon is the box office crack of teen set. We'll see if his afro (have you seen the trailer?) can pull them in for Roll Bounce (I'm betting yes-- I almost wanna see it for that), but if that doesn't work, he's got about eight million projects lined up. Oh-- and he doesn't just produce, he writes as well. Usually, that's not a plus, but if it means he can avoid more doody like Love Don't Cost a Thing, then I'm all for it.
What happened to Gabrielle Union? She put in her time with a slew of teen films, seemed poised to be bigger than Halle Berry, and then. . . not much. I think crappy role choice is finally catching up with her. Just when "Bring It On" delivered her some momentum, she signed up for such varied crap as "Two Can Play That Game", "Biker Boyz", "Cradle 2 the Grave" and "Bad Boys 2". Now, I know that black actors and actresses often get the short shrift in Ho'wood and maybe Gabrielle is a victim of that. But it's more likely she just has stupid representation. Because seriously, if your agent recommends a remake of "The Honeymooners", shouldn't you know it's time to get a new rep?
So there you have it. Six of the biggest up-and-comers Ho'wood has to offer. Should we be worried?