The Assistant Paths: 3.11
This is one of those 'in case you were wondering' sort of posts to head off barrages of email. [barrages- Wikipedia is down, is that a word?]
As illustrated by the various characters of "Entourage", here are the varied varieties of assistant, for those who've always wondered.
Agent's Assistant [Lloyd, Josh Weinstein, Emily/Samaire when she worked for Ari]
Subcategories: Talent vs. Literary, TV vs. Film
starting gig: usually agent trainee or intern
ultimate gig: a superagent, just like Ari.
The bottom line is that agents sell. They sell actors, shows, scripts-- yes, entire lives. Some are evil, and you might indeed WANT your agent to be evil. Trust me, those lunatics at CAA make things happen. Of course,
the real Ari
heads at Endeavor, the third most-evil agency in Ho'wood.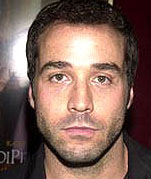 Kids, you can be Ari when you grow up.
Development Assistant [Emily/Samaire once she moved to James Cameron's Lightstorm]
starting gig: personal pants remover. No seriously, who starts out with a development job?
ultimate gig: Producer, via Director of Development or VP, Development.
Development Assistants are usually glorified secretaries who read scripts. But the development path is one of the most influential throughout the industry. Which means that you'll actually be affecting what Hollywood produces for the length of your career instead of just the end.
You like your good job, don't you, Samaire?
Manager's Assistant [Eric, if he had an assistant]
starting gig: manager's assistant, unless your best friend just happens to be a movie star.
ultimate gig: Manager [that's 5%]
This one's pretty straightforward.
I only need one client.
But if you're gonna be a manager in real life, it might be a good idea to have more than one.
Personal Assistant [Turtle]
starting gig: "Personal Assistant" is the starting gig.
ultimate gig: anything from professional dog-walker to superproducer
A personal assistant can be anything from a right-hand man [or woman] to the maid. This is the most highly-variable of all the positions listed. With this one, you could end up a
Gwenn Stroman*
or the personal pants remover for Brett Ratner. Frankly, it all depends on the person you're assisting-- with this path more than any other.
*Fun fact: Gwenn Stroman began her career as Drew Barrymore's personal assistant. I'll look for a confirmation or denial of that from Gwenn at some point.
You've gotten really funny this season, Turtle. Good job, Jerry Ferrara.
Production Assistant [no comparable Entourage character]
starting gig: film school, previous experience that you faked
ending gig: the most nebulous: anything from "hardscrabble no-lister for the rest of your living days" to Steven Spielberg.
Production Assistants are the b*tches of sets. They do everything from coffee-fetching to herding cats and/or extras. But they do gain valuable on-set experience. Like knowing when not to eat the last blueberry muffin on the day Star Jones visits the set.
I was never a P.A.
Public Relations Assistant aka- "the PR" [Debi Mazar's assistant]
starting gig: communications major, aka-the easiest major in the history of existence
ending gig: Partner in PR firm, all you can carry in free stuff
If you don't love your mobile more than anything else on earth, this is not the job for you. That's all I'll say.
Debi Mazar must be connected at all times. Or else she will die.
So those are your basic sorts of Ho'wood assistants. There are probably more varieties that I've forgotten, but I'm too tired to do more 'splainin. Comment if you have questions or want clarifications. Now's the time.
Thanks to the cast of
Entourage
for stopping by.