A Requiem for President Palmer: 4.14
First, I am getting my snarky lil behind kicked in the "Best of Blogs Contest". Please go vote for me
by clicking here.
(Snarkiest Blogger is in the middle of the page) Come on guys and gals, I know you're out there, hundreds of you. And I've got 11 votes? Come on now.
Now, in less me-centric news, last night was the
season premiere of 24,
an event I'd been anticipating for weeks, in part because I'd finally seen the second season via
Netflix.
"24" is a lot of fun as a show, less campy than Alias, and more hardcore, but it's that same sort of fun, wild ride. One thing that 24 does do a lot is kill off characters, and they killed off two of my favorites on Sunday night. Unfortunately, unlike on Alias, characters on 24 don't tend to rise from the grave-- Kiefer Sutherland's Jack Bauer excepted, of course.
But one character who looks unlikely to rise from the grave is Dennis Haysbert's President David Palmer. Beginning in season one as a Senator set to win the California presidential primary (and, coincidentally, an assassination target), David Palmer demonstrated the kind of courage, fortitude, wisdom, and yes, nobility, that only seem to be requirements for Presidents on television.
Seriously, President Palmer on 24 made me wish our government could be like it was on 24-- full of deceit, paranoia and false information, yes, but ultimately led by a man worthy of the highest respect. So it is with great sadness I say goodbye to you, President Palmer. You will be forever remembered as a great man.
This is Dennis Haysbert.
I would vote for him in a second, be it for Senator, President or Pope. I know he's just acting, but I'll take a guy who can at least act like a President over the sham-tastic one we've got now. Any 24-hour day of the week.
24 continues this week on Fox, with the finale of the season premiere beginning tonight at 8:00pm PST. I'm already counting down.
In other 24 news, Defamer reports that
Fox News Cafe has failed Jack Bauer.
Also, I'm pretty sure my girlfriend is cheating on me with
Tony Almeida.
That's the only possible explanation I have for the loud "Tony!" she screamed out when the exploding car exploded for a second time. Which is fine, because I've always thought
Michelle
was hot. Oh why did you have to die! Beyrrrooooooozz!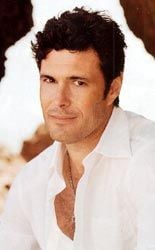 Tony Almeida Vs. Assistant Atlas
One out of my one girlfriends agree, it's a sexy showdown.
Technorati Tags:
24
,
jack bauer
,
Kiefer Sutherland
,
David Palmer
,
President