"You Make the Call Game": College-ish Buddy Comedy
Before we get to today's "You Make the Call" Game, I have a confession to make. Actually, it's more like an excuse and an admission and a reason all rolled into one.
I've been kinda sucky with the whole 'posting on a regular schedule' thing. And also, the quality of my writing in many posts has declined [just a little, hopefully]. Don't take this as a sign that I'm not a dedicated blogger, chattering away at my keyboard every chance I get. The thing is, I have this new job, which is cool. But I also have a new, long commute, which is not cool and takes away from my blogging time. And if you drive in LA, you know how tiring it can be. So thanks for staying with me and remembering that I'm writing as fast as my little fingers can go.
You'll be choosing four roles today in a 'buddy comedy'. Now if you don't remember how to play the
Assistant/Atlas "You Make the Call Game",
it's pretty easy. Just pretend you're a mini-mogul and you're making a comedy that you hope will make millions upon millions of box office dollars. Your assistants have made the calls and now you must make the decisions on who is going to star in your twenty-something, college-ish buddy comedy. Think "American Pie" meets "Point Break" meets "The Breakfast Club". Actually, that sounds like an atrocious smash-up, so just think "Ferris Bueller's Day Off", but in a college-y way.
THE LEAD
[ed note: Cut the assistants some slack, this is the best they could do choice-wise under the circumstances.]
Chad Michael Murray Vs. Jon Heder Vs. Jason Schwartzman
Can we laugh at you?
Agent: CAA First, my avatar. His films have gotten wide play and he's something of a draw, but could he be a draw for this part? And could he act it? Considering the latter question involves his ability to act in a surfer/stoner mode for a buddy comedy, I'd think he wouldn't be horrible. Put it this way-- I don't think it'd be a huge stretch.
Leading man material?
Agent: CAA Next is Napoleon Dynamite darling, Jon Heder. Pitch-perfect in that movie, is he chameleonic enough to gain a good following as an actor? Considering the sheer number of projects his sharks have lined up for him [6, including "Just Like Heaven" which looks awful] I'm guessing we'll find out very soon. Care to gamble on his chances?
Mmm, chest hair.
Agent: UTA Jason Schwartzman has been doing quirky, acclaimed, and mostly-unprofitable movies since his breakout appearance in "Rushmore". And he had that band, right, with that song? About California or something? I already don't care. Celebrity-led bands are a horrible idea, unless Gina Gershon fronts them. But Schwartzman has some acting talent and could use a nice, fat comedy hit to bolster his B.O. standing. So he's available, but do you want him?
THE BUDDY
Seann William Scott. There is no choice here. All buddy comedies featuring characters in their late teens or 20s must, by California state law, contain Seann William Scott.
Laws are sweet, dude.
THE GIRL
Michelle Trachtenburg Vs. Kristin Kreuk Vs. Amber Tamblyn
This is the 'smart girl' role, the
brainy one who inevitably saves the day with her computer book.
Naturally, she's a love interest for your lead and there's a whole bit in the script about her being a brunette, so that's why it's brunettes for the lead.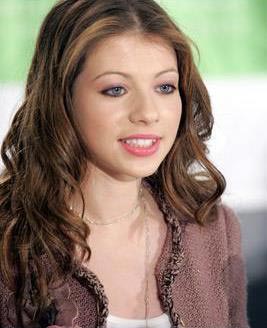 Agent: ICM Buffy's kid sis has some pretty decent acting chops for a 19-year-old. And despite Eurotrip's flop, Ms. Trachtenberg could prove to be a nice draw for horny teen boys who think she might remove her top at any time. And if you saw her on Six Feet Under [rest in peace, Six Feet Under] then you'll know she can both own a scene and do great comedic work-- and still make it look like fun.
Canadian goodness.
Agent: UTA Kristin Kreuk used to be a notoriously picky b*tch when it came to choosing scripts [I still can't believe she didn't bite the offer Sloane gave her like two years ago]. But then she did EuroTrip and Earthsea [did you see that btw? I watched because of her and she had one facial expression the ENTIRE time!], so all bets are off as far as I'm concerned. I think it's actually that she really likes projects that film in Vancouver. Fortunately, this movie will, so she's an option.
Joan Upon a Time.
Agent: Endeavor This is Amber Tamblyn, looking about as smoking hot as I've seen her look in a picture. As "Joan of Arcadia" she always had that sort of frumpy, indie-teen-from-the-Pacific-Northwest look, but apparently she can be pretty hot, too. But remember, this role isn't the T&A one for the flick. That's where the 'Buddy's Girl' comes in.
THE BUDDY'S GIRL
Elisha Cuthbert Vs. Rachel Bilson Vs. Lacey Chabert
This is the role for the dumb/slutty girl that would've gone to Tara Reid back in the day-- before she became the fugliest, trashiest girl on the face of the planet. But remember, Jennifer Garner did 'Dude, Where's My Car?' so don't forget this role, m'kay?
Wet t-shirt contest?
Agent: Gersh Elisha Cuthbert's surprisingly-enduring popularity is one of the new mysteries of Hollywood. Personally, I'm pretty sure it's her rack. Let's hope she doesn't go on a
Lohan diet.
Mischa who?
Agent: CAA With her OC cachet and her sharks, Rachel Bilson is a surprisingly hot commodity. Now Bilson may not be a brain surgeon, but she's at least reasonably funny and works well with others. And she's spent a lot of time in Mischa's shadow, so she knows how to play a supporting role.
Guys, I'm not a robot!
Agent: Paradigm Does anyone else hope, just maybe, that out there somewhere Lacey Chabert has an evil doppelganger who looks the same, but is, like, her total opposite? You know, her doppelganger is made of skin, not plastic, is slutty in a vampy, not "cute" way, has the ability to frown, gives out bjs like candy and is a phenomenal actress. I'd like to meet that doppelganger, despite the fact that she'd come from one crazily-screwed-up universe.
Sorry for that last tangent. Lacey Chabert just weirds me out a little. So now it's up to you, my little mini-moguls. Who's getting a role in your great comedy? Comment away.