It's a Meta, Meta, Meta HollyWorld: 4.23
I was wasting a little time on Friday after work, catching up on a little celebrity gossip just for kicks when I discovered something interesting over at
Egotastic!
More on that a below.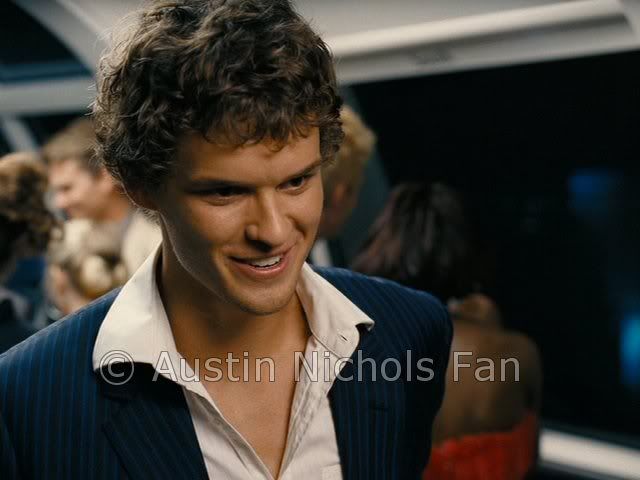 First, a bit of backstory. I had been composing a post entitled "Austin Nichols: He'll Be A Star, I'm Calling It Now" about the actor on the left. If you don't know who he is,
click here to go to his IMDB page.
Notice that he's going to be in a movie called "Lenexa, 1 Mile", written and directed by a guy from the titular suburb of Kansas City.
For a Kansan like me,
that's major bonus points.
Anyway, the reason I was positing that Austin will be a star is because he seems to be a talented actor, he's attractive without being a total pretty boy(ie-dudes will like him), but most of all, he's an awesome guy. And since he's awesome, he's great to work with and therefore likely to keep getting work and heading toward stardom.
How do I know? Well, besides the fact that he keeps getting asked back to do more work for any show he guest spots on (Surface, Deadwood are the most recent two) which is always a sign that an actor is nice to work with, besides that-- I know. Personally, in fact.
See, way back in the day, we went to USC together, majored in the same thing and had at least a class or two together (American Literature 1865-1920: pretty much overrated cowboy lit except for Mark Twain and Gertrude Stein- oh, and we read Gatsby...again). USC's Arts & Letters classes are pretty small, and the fun kids tended to band together besides. And we both showed up at a few of the same SC parties. I actually had no idea he was an actor, but IMDB says he was getting decent work even back then.
Here's the weird thing about Austin. Still, having known someone as just another normal college student, and now they're all hanging out with Jake Gyllenhaal and stuff- it's weird.
And as you know, Chad Michael Murray is my celebrity avatar since I can't exactly slap my own picture on the site. He's pictured at right with his former blushing bride and current ex-wife, Sophia Bush.
And now, according to Egotastic!, Austin
may be dating my avatar's ex-wife.
And cheating (Chad's in this case) broke them up, just like it recently did me and Famke. It's all so meta, right? Hey, what is meta, anyway?
Oh.
So it's kinda meta. I guess it would be more meta if we all like wrote essays about Hollywood together, or something. Anyway, onto more gossip...
Sophia actually took to the pages of whatever magazine would interview her (People) to deny the Gyllenhaal and Nichols rumors first proposed by Egotastic. Her excuse? They were all just having a nice hike together. Although, her excuse "if I have to be in the company of men" made her sound vaguely lesbionic. Which is great for her, because
I love lesbians.
Although, not that great for Austin.
Note to Egotastic: I'm guessing
That's Sophia Bush's comfort sweatshirt.
When you get cheated on, you can develop an unnatural attachment to a seemingly random item of clothing. Trust me on this one. I haven't washed by big, fluffy USC sweatshirt in like two weeks.
And finally Austin, if you're reading this, drop me a line, buddy. We haven't talked since graduation. And I can even remember what you did during the graduation ceremony.
TECHNORATI TAGS:
Austin Nichols
,
Jake Gyllenhaal
,
Sophia Bush
,
Chad Michael Murray