Shaking Some Sense Into Chad Michael Murray: 4.38
Once upon a time,
there was a young blogger who needed an avatar,
and since there were surprisingly few famous people his age who seemed to look like him, went with a small-time movie and big-time WB star. Figuring they both toiled in relatively thankless parts of their respective worlds (assistant-dom and the WB), the young blogger thought it a decent fit. And when his readers seemed to approve, the young actor became the public face of the young blogger, to illustrate his exploits. (well that, and pretty pictures attract readers better than blocky text)
But then this young actor, drunk with celebrity and money, began to behave very badly. So badly, in fact, that even his anonymous bloggy doppelganger began to worry about his association with him.
But briefly, let's review my avatar's recent past:
Ill-advised marriage between two
One Tree Hill
stars. Whatever. Happens to every celebrity.
A few months later, it was reported that
Sophia Bush dropped the F-bomb
on one Chad Michael Murray. But it's "Fraud", not the four-letter one, so don't get all excited. Besides, we all knew it would happen.
As you'll remember,
they split up while Famke and I were going strong.
Life's a biyotch, ain't it?
So awhile later, after
that vapid c**t cheated on me with a retarded version of Billy Zane
(days bitter: 62 and counting),
in a meta twist, Sophia rebounded with my college friend/celebrity acquaintance.
Good on her, I said. Way to not Jen-out.
And then, People reported and
Perez Hilton filled in the gaps,
that you were going to marry an 18-year-old extra-- whom you got pregnant.
And just this weekend, Saturday Night Live even made a mockery of the situation, with "Chad Michael Murray" displaying a ring-filled hand for each 'one of the ones, man'.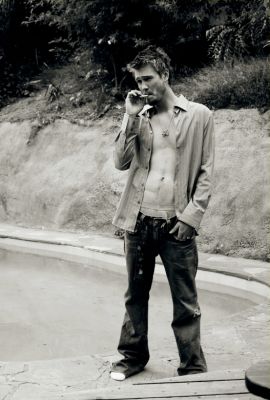 At this point, I wouldn't be surprised to see this picture happen in real life. For example, he becomes a crazy sexaholic and starts waylaying women into having roadside trysts with him and his shiny lack of chest hair. What. . . it could happen.
Look, Chad, I know that, like me, you're 24 years old. Part of being young is screwing up. Most of what you've done, marrying and divorcing Sophia and behaving douchily, is that. Yeah, it doesn't reflect well on you, but it doesn't hurt anyone (except maybe the ex-Mrs. Michael Murray).
But I'm not letting you off the hook
for getting a young girl pregnant.
That's something you're going to spend at least the next 19 years making up for.
I'm not joking around, Murray. I mean it. You did the right thing by not having an abortion. Abortions are for actors who don't make $250,000 per episode.
But that's the only good decision you've made lately. Sure, offering to marry the girl you knocked up is chivalrous in a 1950s kind of way, but the real hard work is going to come 2, 3, 10 and 20 years down the line. That's when you'll be bored with your wife, and you'll want to cheat, but if you've grown up at all, you won't. Because you know it will greatly damage your family.
And right now, this potential family is the only thing that's keeping me from switching my avatar to Seann William Scott, who I'm sure would like constant, free publicity in front of dozens (if not hundreds) of the people who will be making the big casting decisions a few years down the line. And also, the people who make casting decisions today-- they're watching, too.
So shape up, Murray, and consider yourself warned.
And no, I'm not going to be quiet about it. Dude-- everyone knows already, and you live your life in the public eye anyway, so the only way to get better press is to earn it.
And you can start by being a good father.
TECHNORATI TAGS:
Chad Michael Murray
,
Sophia Bush
,
Gossip
,
Celebrity
,
Marriage